We are all familiar with the iconic statue of Christ the Redeemer which overlooks Rio de Janeiro in Brazil. It is visited by nearly 2 million people a year. It is a statue that is recognized pretty much anywhere in the world and is truly one of a kind. This statue was created by Paul Landowski, who is a French sculptor. It was then built by Brazilian engineer Heitor da Silva Costa, along with French engineer Albert Caquot. The statue is 98 feet tall, which doesn't include the 26 foot pedestal it stands on. The arms alone stretch out to 92 feet wide. Well the statue is often struck by lightning and is constantly being repaired from the damages. The statue sits atop a very tall mountain that peeks at 2300 feet. The Corcovado Mountain overlooks the entire city of Rio de Janeiro, and is prone to the harsh and extreme elements.
In 2010, the statue underwent a full makeover costing $4 million. It was erected in 1931. Since its restoration in 2010, the statue has already been struck by lightning roughly 25 times causing a lot of damage.

There are many awesome photos that have been captured of the statue being struck by lightning. This perfectly timed photo actually damaged the thumb and finger requiring repairs.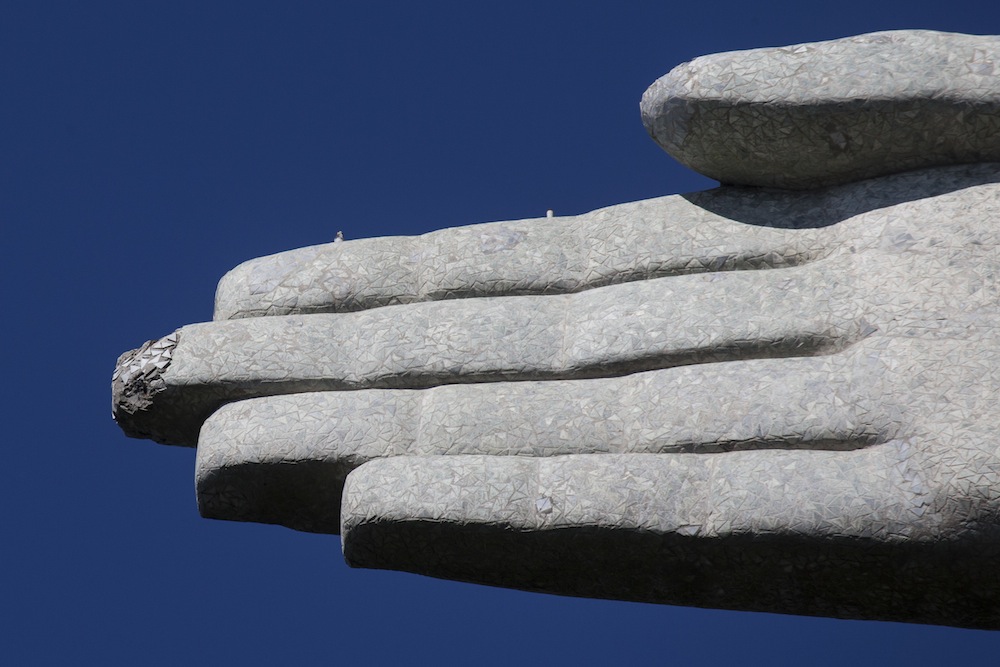 The workers had to suspend themselves over 125 feet in the air, above a steep mountainside.
I am sure the view at the top of the statue is absolutely amazing, and probably makes your stomach sink just a little bit, even if you aren't afraid of heights.
You can tell just how long the arms are when there is an average sized man resting on top.

Repairs were made to the face of the Christ The Redeemer statue as well as the hands. More lightning rods were also added to prevent major damage.

You can almost see the Earth start to curve because you are so high up.

I wonder what the job application for this looks like, but it's pretty amazing to say that you help take care of the Christ The Redeemer statue.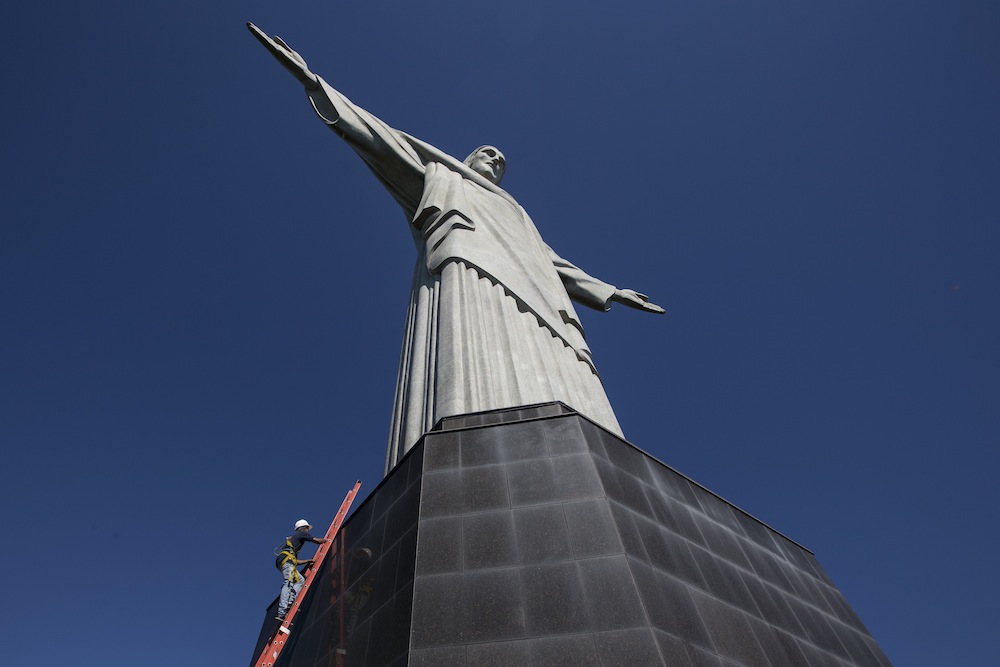 It's no easy task to work on this statue, but the workers are proud to repair one of the most iconic statues in the world.
People pray together below now that the statue has been repaired. This massive iconic structure is struck by lightning very often. It is estimated that the statue is hit at least 5 times a year, in fact. This causes a lot of damage to something that's been standing since 1931. Because it is such a popular tourist attraction, the statue is always kept in excellent condition.